The CellFX System with Kristine Romine, MD
In each issue, Practical Dermatology® magazine spotlights a new medication or device that dermatologists are recommending for patients. Here, Kristine Romine, MD, CEO and founder of Kristine Romine, MD Advanced Medical Skin Care in Phoenix, discusses the CellFX System from Pulse Biosciences, Inc. It treats benign lesions using patented Nano-Pulse Stimulation (NPS) technology.
What is the CellFX System?
Kristine Romine, MD: The CellFX System is a multi-application platform designed to address a broad range of dermatologic conditions, notably the clearance of benign lesions. The CellFX System harnesses patented NPS technology, which delivers nanosecond pulses of electrical energy directed to the cellular component of the lesion to non-thermally clear damaged cells while sparing the surrounding healthy collagen-rich tissue.
The delivery of NPS energy causes the cells to begin a natural process of regulated cell death. The benign lesional cells in the area treated with NPS energy are gently cleared through the body's normal metabolic processes. The lesion turns into a crusty bump, which, during normal cell turnover, sloughs off leaving no evidence behind.
How are you using the CellFX System in practice?
Dr. Romine: We are using the CellFX to treat challenging benign lesions, such as sebaceous hyperplasia (SH), warts, benign dermal nevi, dermatofibroma, and fibrolipoma. We numb the area using injectable lidocaine and then place the treatment tip on top of the lesion. The patient may feel pressure from the microneedles of the tip. A series of rapid energy pulses are then delivered, which lasts about 10-15 seconds for each lesion area. For a single lesion, the procedure typically takes less than 15 minutes. Depending on lesion type, anatomical location, and other clinical factors, a second treatment may be needed for complete clearance. In some cases, the patient is very satisfied with the spot or mark being dramatically improved and hardly noticeable.
Please share your treatment protocol/s and pearls.
Dr. Romine: Just like all treatments, CellFX must be customized to each patient, depending on Fitzpatrick skin type, location of the lesion, size of the lesion, etc. We have learned a lot, based on our experience, and have felt comfortable pushing the guidelines a bit with really incredible results.
Are patients pleased with the results?
Dr. Romine: Our patients are extremely pleased with the results. One patient recently called the CellFX procedure a game-changer after suffering from recalcitrant warts for decades. Another young woman, who was a bride-to-be and wanted to wear a backless wedding gown, was incredibly grateful that we were able to remove the widespread seborrheic keratoses (SK) on her back, without blistering or discomfort during the healing process that occurred with previous treatments.
Please describe ideal candidates.
Dr. Romine: The CellFX System is intended to be used in adult patients for the reduction, removal, and/or clearance of cellular-based benign lesions. In our practice, we find that almost anyone with a benign lesion anywhere on their face or body is a good candidate. We've had great results with SH, dermatofibromas, warts, fibrolipoma, and SKs. So far, we haven't treated many patients with Skin Type V, but men, women, and young adults are all ideal candidates. CellFX has been amazing to treat those lesions that bother patients who have been told by others that the scarring could be worse than the bump. With liquid nitrogen (LN2) and shave excision, patients must care for the wound so it heals in the most aesthetically pleasing fashion; however, treatment still results in a notable mark. With CellFX, the lesion crusts and falls off with minimal wound care [only] to make sure that sloughing is ideal. There is no downtime and no scarring. In the past, complete resolution of deeper lesions like dermatofibromas required surgery and subsequent scarring. LN2 just thins the lesion out, without complete resolution. CellFX destroys benign cells so nothing is left behind.
What is next for CellFX?
Dr. Romine: As a Mohs surgeon, I am excited to explore treating non-melanoma skin cancers such as basal cell carcinoma (BCC) lesions. Patients are demanding quick, easy alternatives to surgery that require little to no downtime, and this technology would be amazing for BCC. I understand that Pulse Biosciences is studying this application, as well as the treatment of dermatofibroma and syringoma, both of which have been difficult to treat successfully, non-invasively, and without significant downtime using current modalities. I'm also interested in exploring the treatment of more benign moles/nevi, particularly in sensitive areas like the face where I'd rather not have to make an incision and risk a scar, regardless of how small it may be. As an aesthetic dermatologist, patients come to me "to look better." In addition to rejuvenating them with neuromodulators, fillers, and lasers, I address any benign lesions at their aesthetic visit that would enhance their appearance. Treating a benign lesion with LN2 often diminishes their joy at seeing, for example, their immediate filler results. I envision additional opportunities for this technology, especially in the aesthetic field.
New Products
Body and Face Lotion and Ointment, Gold Bond
Gold Bond's Pure Moisture Daily Body & Face Lotion and Medicated Advanced Healing Skin Protectant Ointment provide 24-hour hydration and are free of parabens, dyes, and fragrances.
Dermatologist-tested, Pure Moisture Daily Body & Face Lotion is and ultra-lightweight, fast-absorbing formula that contains seven moisturizers and three vitamins, including hyaluronic acid and naturally sourced grapeseed oil. Plus, it's suitable for daily use on the body and face as it's hypoallergenic and won't clog pores.
Medicated Advanced Healing Skin Protectant Ointment is ideal for dry, cracked skin. This high-performance formula includes white petrolatum to help protect, ceramides to restore, and shea butter to hydrate skin. It forms a protective barrier, without leaving skin feeling sticky, and is clinically shown to restore healthy skin. Goldbond.com
Environmental Defense Radiance Boosting Serum, Obagi Clinical
Obagi Clinical has introduced a soft, non-sticky, easy gliding daily serum designed to energize the skin and help defend it against daily environmental aggressors that can lead to oxidative stress and early signs of skin-aging. The Environmental Defense Radiance Boosting Serum leaves a radiant finish and has a green and floral scent. It's formulated with a rich blend of Cordyceps, Astragalus, and Wild Yam Root Extracts + Haberlea Rhodopensis Leaf Extract, which has antioxidant properties, giving a layer of defense from environmental aggressors. It also uses ATP (adenosine triphosphate) Complex, which restores the skin's energy, giving the fuel it needs to fight oxidative damage while simultaneously assisting with hydration, skin radiance, and the appearance of fine lines and wrinkles. Obagi.com
Anti-Aging Face Sunscreen, La Roche-Posay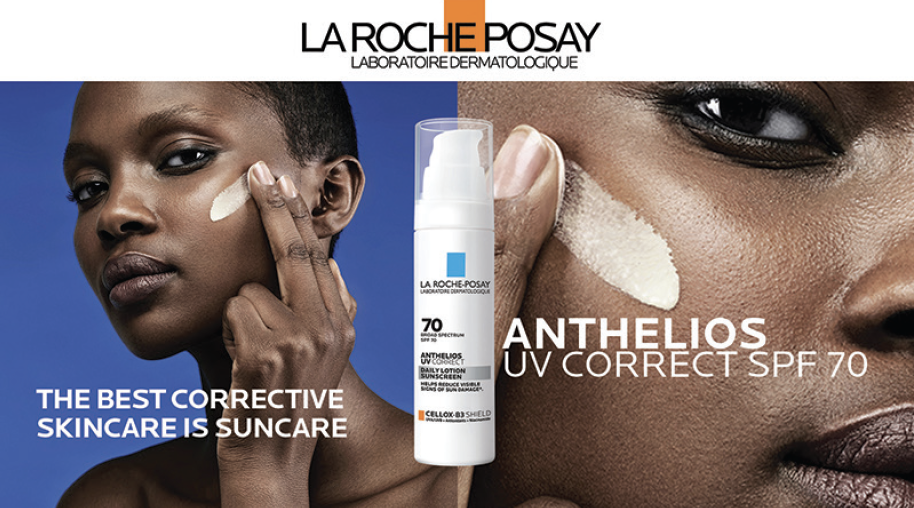 La Roche-Posay's new Anthelios UV Correct SPF 70 Daily Anti-Aging Face Sunscreen is formulated with Cellox-B3 Shield technology to correct and protect the skin from signs of sun damage. This sheer finish lotion blends easily on all skin tones in oxybenzone- and octinoxate-free formula. La Roche-Posay's exclusive Cellox-B3 Shield technology combines photostable UVA/UVB filters to deliver broad spectrum protection and powerful antioxidant protection with Senna Alata, a tropical leaf extract known to defend skin cells against damaging free radicals caused by the sun. Cellox-B3 Shield also contains niacinamide, a form of vitamin B3, known for its ability to help visibly fade skin discoloration. This lightweight sunscreen delivers a unique dual action that helps visibly correct signs of sun damage on all skin tones and helps protect the skin from the sun's harmful rays.
Anthelios UV Correct SPF 70 Anti-Aging Face Sunscreen has undergone rigorous consumer and clinical testing across and all skin tones. The sheer and lightweight formula demonstrated the ability to reveal more even, smoother, healthier looking skin; reduce visible signs of sun damage; blends easily on all skin tones, and protects the skin from the sun's harmful rays. laroche-posay.us
High Potency Hyaluronic Intensive Hydrating Serum, Perricone MD
Perricone MD introduced the High Potency Hyaluronic Intensive Hydrating Serum. This fast-absorbing, deeply nourishing serum instantly replenishes skin with essential moisture to promote visibly smoother, firmer and plumper skin. Formulated with a unique Hyaluronic 4 + 2 Complex, which features 4 forms and 2 natural building blocks of hyaluronic acid to provide instant and long-lasting hydration for a smoother, plumper-looking complexion and a visible reduction in fine lines and wrinkles. A mix of molecular weights allows the complex to penetrate different layers of skin, and since we lose hyaluronic acid in our body with age, topical application supports the skin's natural ability to retain moisture. It's also combined with one of Perricone MD's signature sciences, DMAE, and niacinamide to help visibly firm skin, diminish dullness and strengthen skin's moisture barrier for a healthy, youthful-looking appearance. In clinical study of 35 women, 97% saw improved skin hydration for 72 hours. In a consumer study of 109 women, 86% saw softened fine lines and wrinkles and 85% felt firmer, more supple skin after 28 days. PerriconeMD.com
New Body Products, Aforé By Dr. Few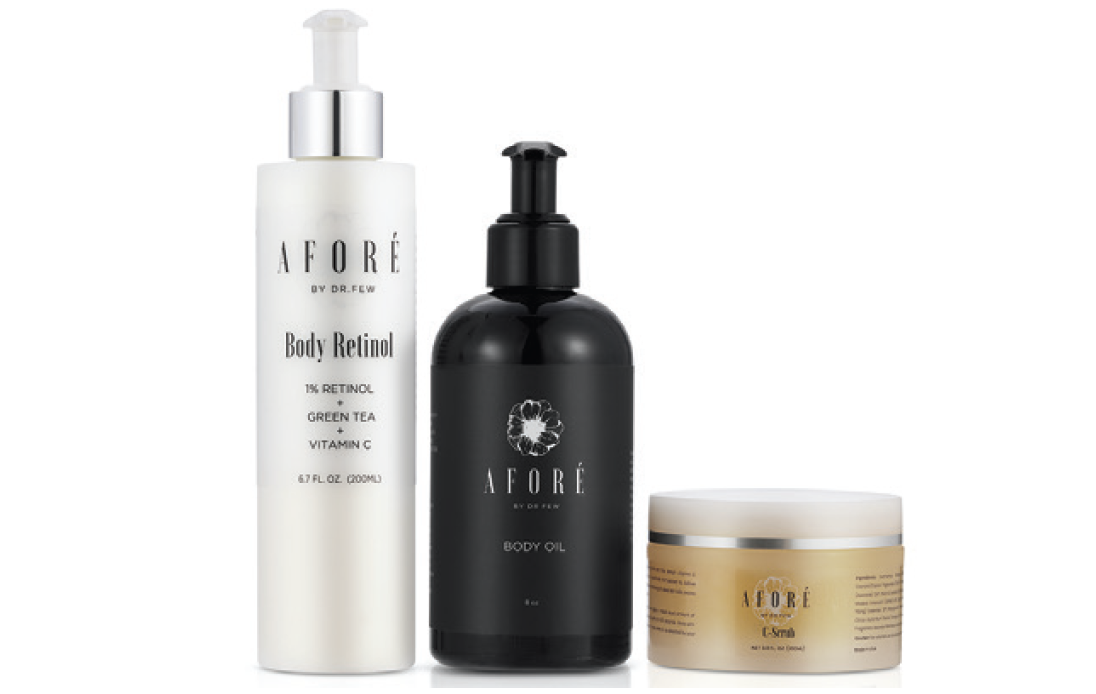 Aforé By Dr. Few has added two new body products to its portfolio. The first, Aforé Body Oil, is infused with jojoba oil, sunflower seed oil, and green tea to deeply hydrate skin, while also providing potent antioxidant protection from free radicals. It is recommended that users apply in the morning for a radiant summer glow. Aforé Body Retinol is formulated to address premature skin aging in all forms that can be present anywhere on the body. The Body Retinol keeps skin supple and youthful by increasing skin cell turnover and collagen production. Powered by 1% retinol, this revitalizing skin treatment minimizes fine lines and wrinkles, crepey skin, and hyperpigmentation. The addition of green tea, caffeine and vitamin C make this a must-have for fresh, healthy skin from head to toe. aforebeauty.com
Super Vita-C Booster, NuFace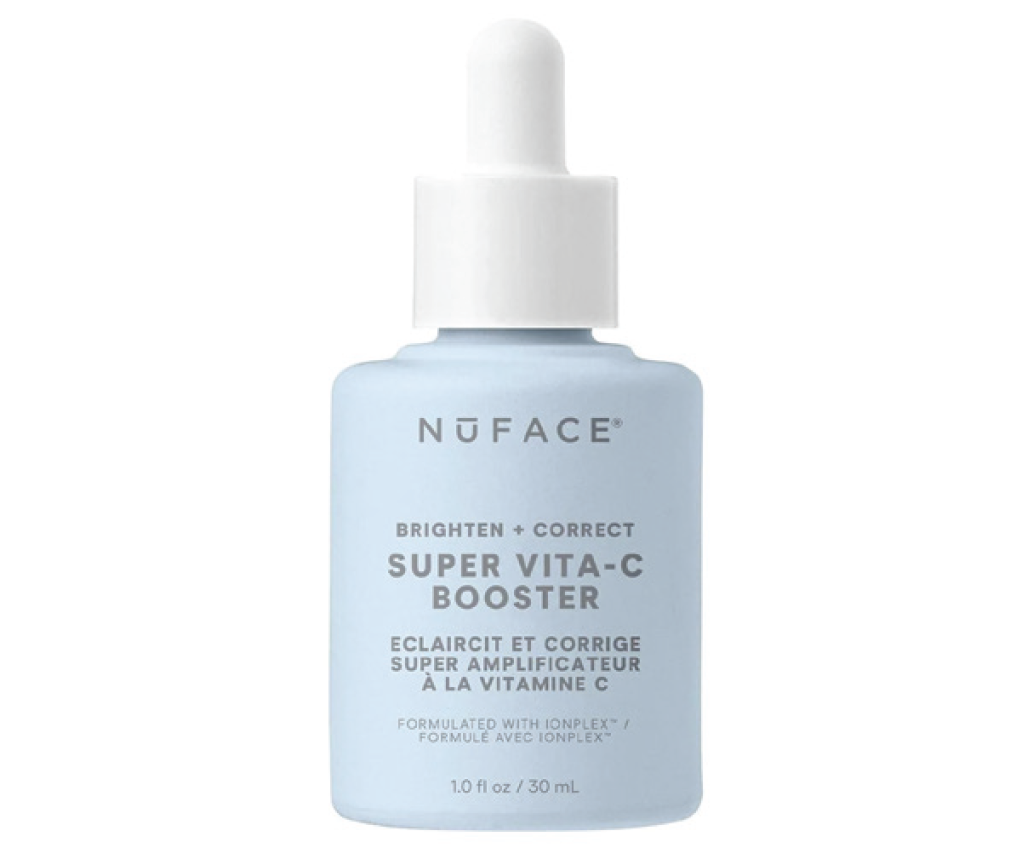 NuFaces' new Super Vita-C Booster offers a powerful, potent vitamin-C in every drop helps to diminish the appearance of dark spots, while nutrients like niacinamide and ginger root extract help to brighten and even skin tone to reveal your most-glowing complexion ever. Key Ingredients include ionplex, a precise concentration of ions and glacial water to ensure optimal microcurrent device performance; vitamin C, an antioxidant that helps to reduce the appearance of dark spots; niacinamide (vitamin B3), which helps to soothe and brighten skin; ginger root extract, which helps to promote an even skin tone; and carnosine and edelweiss flower extract, which helps to firm, tighten, and contour the skin. The Super Vita-C Booster visibly helps to reduce discoloration and brightens skin with every drop. Its antioxidant properties protect the skin from future damage and discoloration, and it leaves skin looking more even and radiant with every use. The company also says it enhances results of the NuFACE Microcurrent treatment. Mynuface.com