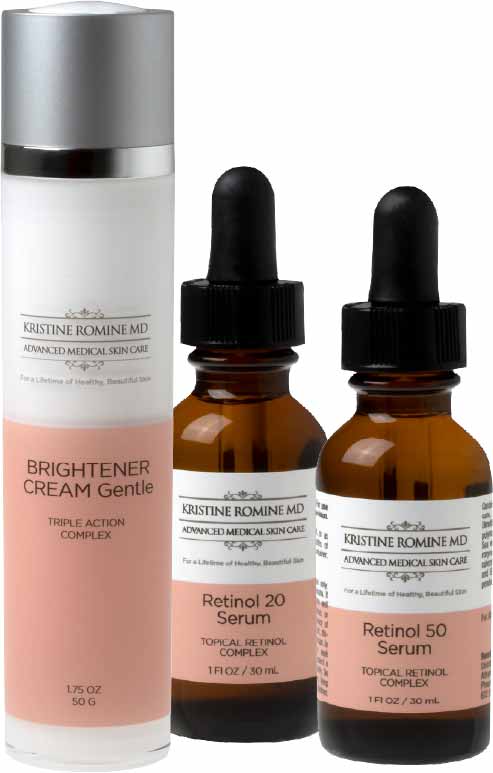 Brightener Cream Gentle
TRIPLE ACTION COMPLEX
A high-potency yet lightweight and gentle mousse that contains skin brighteners, exfoliators, antioxidant vitamins C and E, and a gentle retinoid. This cream is best for dry, sensitive, normal, and photodamaged skin, however loved by all.
Retinol 20 Serum | Retinol 50 Serum
TOPICAL RETINOL COMPLEX
Retinol is a form of vitamin A which improves skin texture, strengthens the skin, and stimulates collagen production to reduce the appearance of fine lines (in around 4 weeks) and wrinkles (in around 12 weeks.) These serums are suitable for dry, sensitive, and normal skin.
Perfector Pads
BRIGHTENING EXFOLIATOR PADS
Easy-to-apply pads help to smooth skin texture, brighten areas of hyperpigmentation, exfoliate, and provide both antimicrobial and anti- inflammatory properties. Perfector Pads are formulated for all skin types and may be used daily.
Hydrapeel Pads
EXFOLIATING & MOISTURIZING
Retexturing pads help to exfoliate dead skin cells and provide lasting hydration. These pads are great for drier skin types and for those who regularly use retinoids. Application from weekly up to daily.
Saturday Night Perfector Pads
INTENSE WEEKLY EXFOLIATION
Once weekly at-home treatment for mild to deep exfoliation leaves behind dramatically smooth and polished skin. Suitable for normal, oily, acneic, and resilient skin types. Leave on for 30 minutes up to overnight for oily skin types.