Maintaining proper levels of skin hydration is essential for improving the beauty and function of our skin. Products containing hyaluronic acid, peptides, ceramides, cholesterol, and other barrier restoring ingredients are vital to the support of overall skin health.
Hydrator Cream
INTENSIVE HYALURONIC MOISTURIZER AND BARRIER ENHANCER
Daily hydrating cream contains a combination of hyaluronic acid, ceramides, fatty acids, and cholesterol to enhance the skin's natural moisture lipids, and is suitable for use with all skin types.
Hydrabooster with Peptides
REJUVENATING MOISTURE ENHANCER
Lightweight, daily hydrating serum containing hyaluronic acid to enhance skin moisture and improve the appearance of fine lines and wrinkles. This serum is perfect for applying under make-up and sunscreen. Hydrabooster with Peptides is appropriate for all skin types, and wonderful as a light moisturizer for oily skin patients.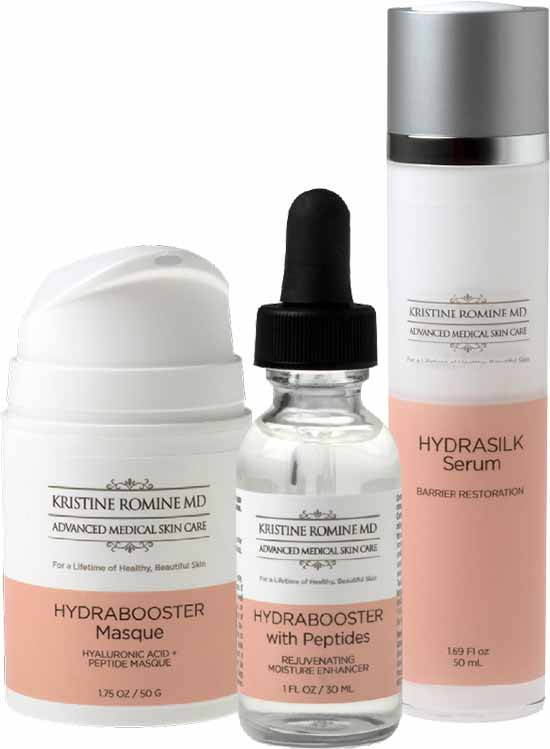 Hydrabooster Masque
HYALURONIC ACID + PEPTIDE MASQUE
Gel masque which delivers soothing moisture deep into the skin to improve flakiness, reduce the appearance of fine lines and wrinkles, leaving a silky smooth finish. For all skin types.
Hydrasilk Serum
ANTI-REDNESS EMOLUGEL
A rich, hydrating gel used to replenish the skin's natural moisture barrier. Best for dry, dehydrated, and sensitive skin types.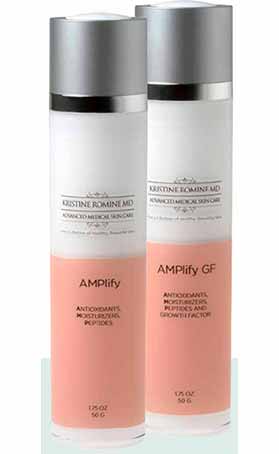 Amplify | Amplify GF
ANTIOXIDANTS, MOISTURIZERS, PEPTIDES | AND GROWTH FACTOR
Our Amplify products are fortified with niacinamide (vitamin B3), antioxidant vitamins C and E, ferulic acid ester, and texture-enhancing peptides. Amplify GF contains a growth factor that is ideal for mature skin, which is less prone to breakouts. Both products are perfect for dry, sensitive skin types, but well-loved by all.